Thursday, June 14
After work, I went to the Now, Now and fun. concert at House of Blues with some friends from work. Karl and I arrived about half an hour before the show started and tried to get as close to the stage as we could. Unfortunately, it was already packed. Mostly packed with high school students. I was definitely the tallest person in the pit, so no matter where I chose to stand I would have been able to see the stage. We did manage to get a good spot, but not nearly as close as I would have expected.
Now, Now gave a pretty straight-forward performance. I'm a fan of their music and they delivered it without a hitch. Fun. on the other hand, provided a lot of entertainment and energy throughout their set. You could tell that Nate Ruess, the lead singer, was having the time of his life. At times, he would simply stand behind the mic with the biggest smile on his face, soaking up the crowd's cheers. There was a lot of audience participation; it seemed like a majority of the people there knew all of the lyrics to every song. The band did a good job of creating a setlist that included songs from both of their albums. They also did a really good cover of The Rolling Stones' "You Can't Always Get What You Want." The set ended with an encore performance of my current favorite fun. song, "Some Nights." It was a pretty great show.
After the concert, Karl was kind enough to drop me off at the Ramada hotel by the airport. Molly and I were going to stay there since we had a flight scheduled for early the next morning.
This turned out to be the worst hotel I've ever stayed in. It was stiflingly hot. Molly had the air conditioner on full blast and you wouldn't have known it if it wasn't making so much noise. The whole room was dirty. There were crumbs in my bed, Cheerios on the floor, and a dirty towel on the floor in the bathroom. We had reserved a king size bed, but were given two doubles. Molly mentioned the bed situation to the front desk when she was checking in, but was told that there was nothing they could do and two doubles usually go for more than a king room. Like that was supposed to make her happy?
It was too late to be fighting with hotel staff, so I opened a window to let in the relatively cool night air and tried to get some sleep on top of the covers. I think I finally fell asleep around 12:30.
Friday, June 15
I woke up around 4am to get ready to go to the airport and catch our flight to Little Rock. We were going to Molly's cousin Valerie's wedding. Running on only 3.5 hours of sleep, you can imagine I was quite tired. Molly thought I was upset about something, but I think I was just looking grumpy from lack of sleep.
When we reached airport security, I asked to have the pat down instead of going through the millimeter wave scanner; my little silent protest against security theater. It wasn't too bad, but I wish we had a more intelligent security system set up for flight travel.
We had a layover in Chicago at the same time as Allen, Melanie, and Mandy. Molly wanted to go see them, but I kept her sensible. There may have been enough time, but I didn't want to chance it and we would be seeing them in Little Rock very soon.
Once we got to Little Rock, we met up with Molly's family, got our baggage and our rental cars, then went off to lunch. The girls went to a ladies luncheon put on by the mother of the groom, while Allen and I went to Cactus Jack's Mexican Restaurant. It was pretty standard Mexican fare, which means that it was good. Since we were done eating a long time before the ladies luncheon would be over, we went to the movie theater and watched The Avengers. This was my third time seeing it and it was just as great as it had been the previous two times. Allen's only comment after the movie was "Well, there was certainly a lot of action."
We checked into our hotel rooms and caught up with some of the extended family that came to town for the wedding. We were staying at the Peabody Hotel, where their claim to fame is a group of ducks that live in the hotel. In the morning, they ride the elevator down to the lobby where they spend their day swimming in the fountain. That afternoon, we were able to catch their return ceremony to their room. It's pretty neat watching the ducks walk down the red carpet and ride up the glass elevators.
Me, Molly, Mandy, Ava (their cousin Carmen's daughter), their grandparents and Chuck Hicks (Harding professor and musician for the wedding ceremony) went to Copper Grill for dinner. The conversation was pleasant, but at times it was surreal - for instance: Mr. Hicks breaking into song about running over a cat with a lawnmower.
I ordered bacon wrapped shrimp and Ava ordered fried shrimp. When our meals arrived, Ava decided that my shrimp looked better. She offered to trade me two of her shrimp for two of my shrimp. I said that I would only be willing to trade one of my shrimp for one of hers. The next deal she offered me was one of her shrimp for two of mine. The bargaining didn't get much better from there. She was determined to have two of my shrimp; one just would not do. Eventually, with some help from Molly, Ava realized I wouldn't be giving up more than one and we settled on an even trade. Even though I picked out the biggest piece to give her, she later accused me of making sure to give her the smallest piece. I'll tell you what: it's hard to reason with a 7 year old. The fried shrimp wasn't too bad, but my bacon wrapped shrimp was delicious.
On the walk back to the hotel, we stopped at the Taekwondo garden and relaxed for a bit. It was a nice night.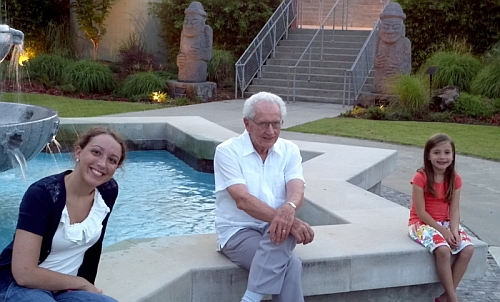 1 comment
Ron hates to sleep in hotels/motels. I can think of only 2, maybe 3 grungy ones in our 39 yrs. of marriage, but I guess it would depend on who you ask. The very best hotel we ever stayed in was the Washington D.C. Hilton. We got a super deal or we'd never have been able to afford it!
07/10/12 @ 16:44
September 2021
Sun
Mon
Tue
Wed
Thu
Fri
Sat
1
2
3
4
5
6
7
8
9
10
11
12
13
14
15
16
17
18
19
20
21
22
23
24
25
26
27
28
29
30
<< <
> >>
Search