09/22/13 21:37, by
admin
, Categories:
Events
Last Saturday, Karl and I drove up to Detroit for the St. Jerome's Laneway Festival. Originating in Australia, this was the first international laneway festival and for some reason they chose Detroit as host city. Maybe it was because Oakland University has an awesome venue for a multi-stage concert event. Rolling green hills and almost perfect temperature made for a great day of music.
We got to the festival grounds pretty early, so we scoped out all of the merchants and were familiar with the stage locations before the first band started. About ten minutes after entering, I realized that I left my sunscreen in the car and Karl left his sandwich there, too. Unfortunately, the event had a no reentry policy. I asked a guy at the entrance if there was any way I could go out and get my sunscreen from that car. Without any sympathy, he assured me that I could not. I tried to stay in the shade as much as I could throughout the day, but I ended up with a sunburn. I guess it could have been worse if I wasn't mindful of it.
The bands we saw were Haerts, My Brightest Diamond, Chet Faker, CHVRCHES, Solange, Flume, and Sigur Rós. We saw bits and pieces of other performances, but those were the full performances we caught.
The biggest letdown was CHVRCHES. That was the band I was most excited to see, but it seemed like the lead singer didn't want to be there. There was a song where one of the other members sang lead vocals and he went nuts during the performance. It was strange but entertaining, unlike the rest of the songs where they all pretty much just stood there and played their music. Karl and I agreed that they might perform better in a small club where it's dark and the lighting could provide some engagement for the audience. From what I've read in the reviews for the festival, our poor opinion of the performance is in the minority. I still love the band, but I don't think open space daytime venues are for them.
The biggest surprise was My Brightest Diamond. I expected it to be good, but unexciting. I listen to her music when I want to chill, but it turned out that she had a very energetic show. Small strange things, like wearing a hard hat and fake mustache for one song or putting on yellow house cleaning gloves for another, kept things interesting. She did a good job of working the stage.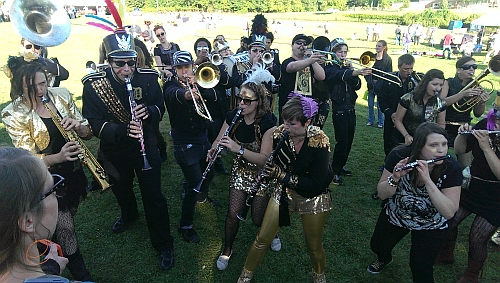 One nice surprise was the Detroit Party Marching Band. They started the set for My Brightest Diamond, but we also caught them performing on their own out in the middle of a field. They were very entertaining. Energetic music, crazy costumes, and interactions with the audience made for a fun time.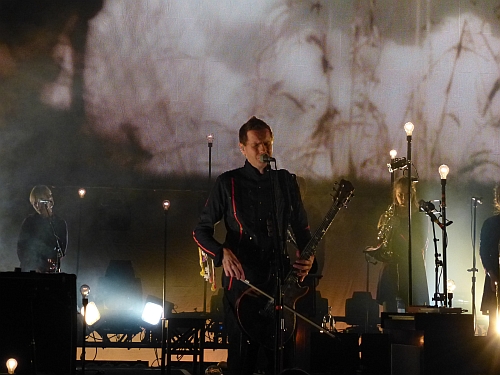 The best performance was, by far, Sigur Rós. The sun had set by the time they took the stage. Individual light bulbs had been placed around the platform. Their set made use of the long LED screen that had been hanging unused behind all of the other bands that had used that stage. It displayed atmospheric video clips to match the mood of each of their songs. The crowd was taking pictures and videos for the first half of the set, but soon after, it felt like everyone was just caught up in the moment with the band. There weren't any hand-held glowing screens scattered around me; just a crowd enthralled by the energy pouring out over it. After it was over, I was on an emotional high. I loved it.
Overall, it was a great music festival. Problems that a lot of concerts face - crowding, obstructed views, drunks, fights - were virtually nonexistent at the Laneway Music Festival. The music was eclectic and the venue was perfect. If the bands are lined up right for next year, I can see myself going again.
This entry was posted by
admin
and is filed under
Events
.
No feedback yet
September 2020
Sun
Mon
Tue
Wed
Thu
Fri
Sat
1
2
3
4
5
6
7
8
9
10
11
12
13
14
15
16
17
18
19
20
21
22
23
24
25
26
27
28
29
30
<< <
> >>
Search