Last December 13th, Molly found out something in the morning that she couldn't tell anyone. It was a Sunday and I was sick, so I stayed in bed while Molly went to church and then helped out with a "Cookies With Santa" event. All that time, she kept the secret that she was pregnant! When she came home, I was feeling a bit better, so she was finally able to tell me. I was floored. We had only been trying for a little over a month and I didn't expect it to happen so soon. It was a great surprise and really lifted my mood, to say the least.
That week, we went to my company holiday party and Molly's family came to visit that weekend. The weekend after that, we went to visit my family for Christmas. It was so crazy knowing what we knew and not being able to tell anyone. Most advice I read online said to wait 10 to 12 weeks to tell other people that you are pregnant because that's when the risk of miscarriage dramatically drops. We were trying to wait that long, but it was really hard because we were so excited and the holidays made it even harder.
New Year's Eve, Molly and I were sitting in our living room talking about when we were going to tell our families about the pregnancy. In a spur-of-the-moment decision, we agreed to tell her parents that night and my parents when we saw them that weekend for Christmas with my aunts in New York. I ran to my computer and whipped up a little image to text to Molly's parents. I sent this to her dad at 8:30pm while Molly was on the phone with her mom: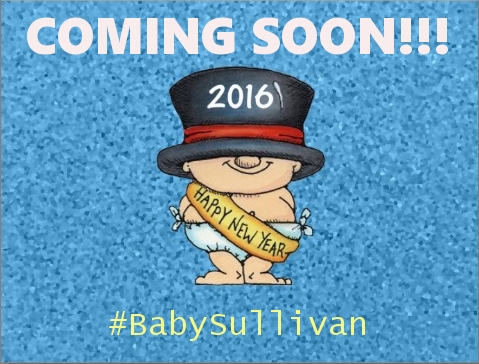 Molly's mom was in shock and there was a lot of happy crying.
That weekend, Molly and I went to New York for my aunts' Christmas party. We had purchased a bracelet for my mom that said "Grandma is always loved" on it. The plan was to give it to her without any explanation and just let it sink in. Before my family arrived, I asked my cousin's daughter to record my parents' reaction to the news:
The baby has been healthy all of this time, but it has been a rough pregnancy nevertheless. Molly has been sick throughout, though it was worst in the first trimester. We took to calling the baby "Little Monster" since she was causing so much trouble. It was mostly in fun, though. We already love her so much and can't wait to meet her.
Oh yeah, it's a girl!
The due date was last Wednesday, August 24, but it seems we'll need to coerce her out into the world. Molly is going to be induced on Monday at 5pm, unless the baby finally decides to come out on her own before then.
It makes me really nervous, but I am also really excited.
We're about to embark on a grand adventure with our new little Sullivan!
1 comment
Great story, and looking forward to more when that sweet baby comes.
08/29/16 @ 19:34
December 2021
Sun
Mon
Tue
Wed
Thu
Fri
Sat
1
2
3
4
5
6
7
8
9
10
11
12
13
14
15
16
17
18
19
20
21
22
23
24
25
26
27
28
29
30
31
<< <
> >>
Search