07/27/14 21:46, by
admin
, Categories:
Events
The Rock and Roll Hall of Fame has a free concert series every summer. I was ecstatic when I found out Reignwolf would be one of the featured artists. This is a band I have been pretty excited about since first hearing their first single in January.
I hadn't heard of the opening band before, but I checked them out after seeing them listed on the schedule. Thaddeus Anna Greene are a blues/soul rock band from Cleveland with a frontman reminiscent of Jimmy Hendrix. They put on a pretty good show. The music was great, but it was slightly disappointing that TJ Maclin turned around to face the drummer for almost every guitar solo. The drummer has seen his work, the fans should get a chance!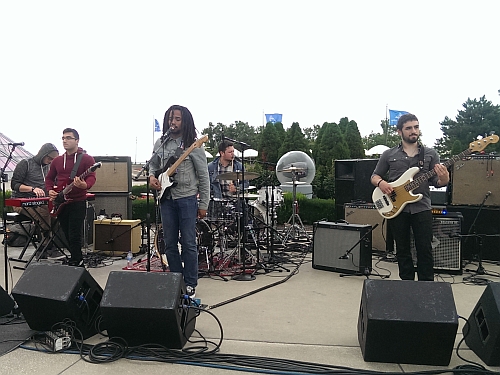 Where Thaddeus Anna Greene were tight and controlled in their performance, pouring out the grooves to the audience, Reignwolf was unhinged and reckless, slamming the crowd in the face with crushing riffs. The main ingredient to the Reignwolf sound and experience is founding member Jordan Cook. In less than a minute of taking the stage, he attempted standing atop one of his monitors, tipped it over, and fell flat to the stage. After picking himself up and resuming his jam, he quickly worked his way around another speaker and got his guitar cord caught. This resulted in a trip and the cord coming unplugged. What an entrance. Luckily, he managed to stay upright for the rest of the show and there weren't any more gear glitches.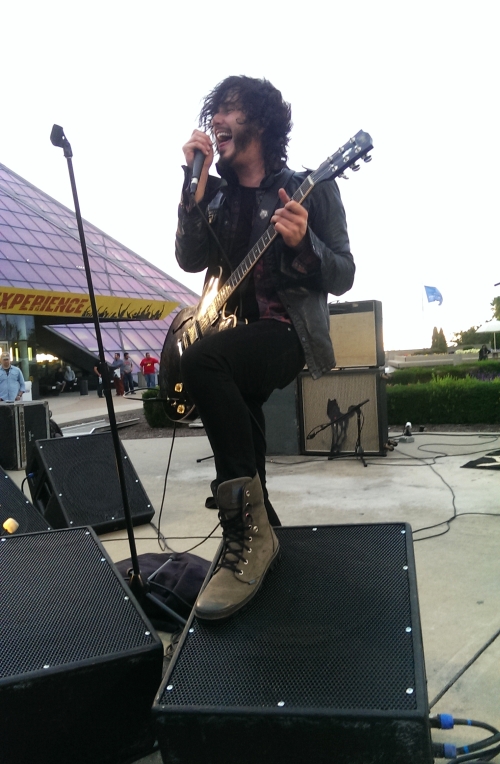 Speaking of gear, it was pretty cool that Cook played an electric mandolin for, rather fittingly, "The Mandolin Song". The second guitarist/bassist, Stitch Rapaport, plays something he developed and calls a Buitar. It allows him to play both bass and guitar at the same time without much compromise to either sound.
At one point, the other two members of the band left the stage and Cook was playing guitar and drums at the same time.
It was an intense show. I think it was soon after the next picture was taken, that one of the strings broke on his guitar and he kept wailing away at it. Then he laid it down on the stage and kept wailing while ripping out the other strings till there was nothing left. A couple more smacks at the pickups then he stood up, said thanks, and walked off the stage. They had only played four songs.
At this point, I thought maybe that was really it. I had only ever heard four of their songs before. They haven't released an album yet. I thought maybe that was all they had.
Then one of the more dedicated fans jumped up on the stage and led the crowd in chanting for an encore and the band acquiesced. Cook picked up a new guitar and dropped down into the audience. I was standing right next to him as he started rocking out once more. I tried to get a picture, but he was seriously so close that they all came out blurry because my phone couldn't focus. I almost got hit in the face a couple times, but it was awesome.
When he got back on the stage, he asked a kid who looked about 12 years old if he would hold the mic for him. That kid's face said that this was the most amazing thing that ever happened to him. He stood in awe the whole time he was holding the mic up.
The concert started at 7 and was over well before 10. I think it may have been the earliest I ever got home from a concert. Even so, it was definitely a show I would have paid to see. I think the rock hall is pretty great for putting on a public free event for everyone to enjoy some amazing music in our beloved city.
Related Links
This entry was posted by
admin
and is filed under
Events
.
No feedback yet
August 2020
Sun
Mon
Tue
Wed
Thu
Fri
Sat
1
2
3
4
5
6
7
8
9
10
11
12
13
14
15
16
17
18
19
20
21
22
23
24
25
26
27
28
29
30
31
<< <
> >>
Search