Category: "Food"
11/24/09 10:26, by
admin
, Categories:
Food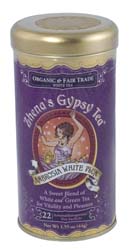 Just finished off a tin of this stuff. I went through it faster than most and I now realize it's because I chose this tea over the others in my collection more often than not.
The mixture of the green and white teas puts it at the right level of strength. The plum and strawberry flavors are a nice compliment. I usuallt don't add any sugar or artificial sweeteners to my tea, so it's possible that a large factor in the overall taste of this tea is the inclusion of stevia leaf. Stevia is a natural sweetener with zero calories. Another excellent aspect of this tea is that it is 100% organic. I'm a sucker for organic products.
I highly recommend picking up a tin of Ambrosia White Plum next time you are looking for a new tea to try out. Hopefully, you'll enjoy it as much as I do.
07/14/08 11:57, by
admin
, Categories:
Food
Molly and I went grocery shopping on Saturday and I came across this strange looking produce item. Called chayote (pronounced "cha-YO-teh") in the U.S. and Latin America, it is a fruit belonging to the gourd family.
There was an interesting recipe on the Dole packaging and, being in an adventurous mood, I decided to try it out. Following is the recipe I used:
2 chayote (seeds removed)
1 small onion
1 can Ro*Tel
1/2 tsp salt
1/2 cup parmesan cheese
1/2 cup water
Cut the chayote and onion into cubes. Put them in a saucepan with the water and salt and bring to a boil. Lower heat, cover, and simmer for 15 minutes. Add Ro*Tel and heat. Add cheese just before serving. It's optional, but I poured it over a serving of rotini.
Pros
This is a healthy meal. The main ingredients are fruits and vegetables. Chayote is rich in amino acids and vitamin C; it has diuretic, cardiovascular and anti-inflammatory properties.
This is a filling meal. I could barely finish my plate and most of the ingredients are low in calories.
Cons
The taste was kind of bland. I tried some chayote by itself before cooking it and I would describe the flavor as a cross between a potato and a not-so-sweet apple. If it wasn't for the Ro*Tel and cheese, I fear this meal wouldn't have had much flavor at all.
It took a long time to prepare. Chopping 2 chayote and an onion into small-to-medium size cubes took longer than I expected.
Summary
This recipe was interesting, but I wouldn't make it again. It was too much preparation for too little flavor. Also, I doubt I will go looking for more chayote recipes because it's a pretty bland fruit.
12/18/07 23:00, by
admin
, Categories:
Food
I cooked up some fried rice and placed the contents of this package alongside it for a a quick asian dinner. Unfortunately, this product tastes nothing like General Tso's Chicken. I don't know if they mixed up the packaging or what, but it tasted like BBQ Chicken.
The chicken was tender and it was really easy to prepare. It tasted like it would do well with some white bread as a sandwich, but it clashed horribly with my fried rice.
If you are looking for some quick asian cuisine, I suggest you look somewhere else.