06/07/13 23:22, by
admin
, Categories:
Family
Molly and I got in to Selinsgrove around midnight last Friday night. Saturday morning, we went to Perkins for breakfast with my grandpa and my brothers. Then we met the rest of my family at the Susquehanna Sports Center for some mini-golf. Their church was having a summer fun day for the kids. Molly, dad, and I were the last to start going around the holes and must have been taking a really long time at each one. When everyone else had finished all 22 holes, we were on hole 13. Everyone was headed to the church building for lunch, so we skipped ahead to the last hole. Molly had been keeping score, but wouldn't add up the final score. I'm pretty sure it's because she knew I would have won. At the church building, we had pizza and then the kids played water games. I got to visit with my friend James and some others. It was a good time.
After all the kids were thoroughly soaked, we went to my parents' house. Molly and I showed them pictures from our trip to Ireland and London (which I plan on posting about later). It was really useful having a tablet that can hook up to a tv so everyone can see the same pictures all at once. Even so, it took us an hour and half to get through all of the pictures. It seemed like Maria was the only one that got bored with it, except for my dad when we were showing the pictures from the Harry Potter tour. Molly will be reworking the picture collection for showing it to her parents. We also gave my family the souvenirs we got for them. I think the shirt I got my dad was the most perfect match of the bunch.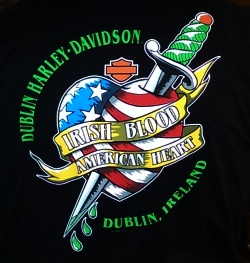 For dinner, we went to a new restaurant in Mifflinburg called Twisted Bull. While looking over the menu, I saw an item called the Miff Burger. In the description, it listed Biff Sauce as one of its ingredients. There was a burger joint down the street from The Rental Stop when I was growing up that was called Biff Burger that had a special sauce on their burgers. It closed down in 2001 and I couldn't believe this restaurant was featuring their sauce on a menu item. Of course, that's what I ordered. I added cheese and bacon to mix and it was both nostalgic and delicious.
Sunday, we went to church and rushed back to the hotel to check out before noon. Then we had a great home cooked summer lunch of fall-off-the-bone ribs and corn on the cob. After lunch, Molly and Maria worked on a craft project Molly had brought: glow-in-the-dark mosaics. Maria liked "charging" them up and then pulling each of us into the closet to see them glow. Meanwhile, I was having a lot of fun finding old art and writing projects from school and sharing them with the family.
It was a good trip!
This entry was posted by
admin
and is filed under
Family
.
No feedback yet
September 2021
Sun
Mon
Tue
Wed
Thu
Fri
Sat
1
2
3
4
5
6
7
8
9
10
11
12
13
14
15
16
17
18
19
20
21
22
23
24
25
26
27
28
29
30
<< <
> >>
Search