2012 was a pretty low-key year for Molly and I. Here's a breakdown of the highlights. (At least, the ones I can remember right now.)
February
Mandy got really sick, Molly took some time off from work to go help out.
March
Took a weekend trip to Pittsburgh to see Stars on Ice, since they didn't come to Cleveland this year.
April
My family came to visit us. We went to the Great Lakes Science Center.
The company I work for was purchased by LivingSocial.
June
Went to Arkansas for Valerie's wedding. (Blogged about that trip: Part 1, Part 2)
Molly saw Wicked in Dayton with her mom, dad and sister.
July
I lost a pie eating contest at work.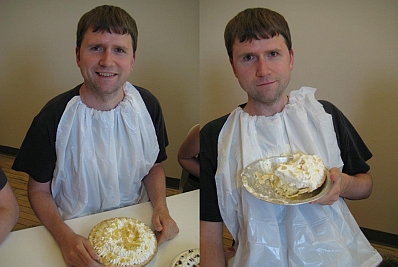 I visited the LivingSocial headquarters in DC with half of my company. Finally went in the Jefferson Memorial. Molly and I didn't make it there last time.
While in DC, a couple of us found out that Roger Waters would be performing "The Wall" across the street from where we were eating dinner. We bought some tickets and had an awesome time.
August
Molly went to Florida with her mom and sister. I went to visit my family in PA.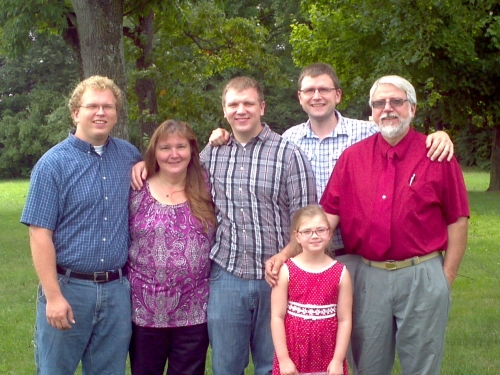 We took a train to Rome, NY for my cousin's wedding.
September
I went to the Uprise Festival with my brothers. Molly went to visit her sister at grad school.
October
Molly and I went to see Celtic Thunder.
I put up homemade bookshelves in our living room.
November
Molly went to the Scott Hamilton & Friends event. She was very excited that they had gathered every U.S. Olympic Gold winning figure skater in one place for the event. She also got to meet several of the skaters, including Kristi Yamaguchi.
Molly and I went to a cabin in Hocking Hills to celebrate 10 years since we started dating.
We spent Thanksgiving with my family in PA.
December
Spent Christmas with Molly's family.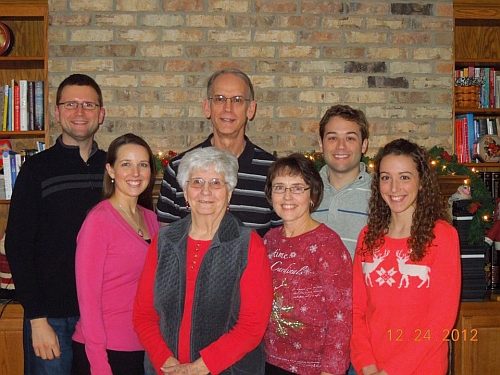 Went to New York for the Sullivan family Christmas party. The weather was really bad, so the trip there took an extra two hours. Thankfully, it was better on the way home.
We were pretty worn out from all of the traveling, so we spent New Years at home this time around. Resting up for the new year!
1 comment
I will summarize your photos:
WHITE PEOPLE!!
01/01/13 @ 22:57
September 2021
Sun
Mon
Tue
Wed
Thu
Fri
Sat
1
2
3
4
5
6
7
8
9
10
11
12
13
14
15
16
17
18
19
20
21
22
23
24
25
26
27
28
29
30
<< <
> >>
Search